I'm so excited to be nominated for this award by THE CAVALIER NERD. Thank you for the nomination! I'm a fairly new comic book reader. So, I think this is super cool that I was nominated for this award. It is a great opportunity for me to explore the comic world further and continue my journey as a comic lover.
Here are the rules:
Display the Real Neat Blog Award badge.
Thank the blogger for the award.
Answer the questions from the one who nominated you.
Nominate 7 to 10 bloggers.
Ask them 7 questions.
---
Questions:
What's your favorite?
A comic book of all time (single issue or graphic novel)? I've read a few webtoons but so far I've only read one comic book and I've loved it. It's The Dark Knight Returns.
Comic book character? I have to say that I adore Harley Quinn because who doesn't like a good anti-hero.
Comic book movie? So, I may be a new comic book reader but I have loved movies/TV shows based on comic books for a long, long time. I have many favorites but I'm an absolute fan of Suicide Squad (2016)
Comic book TV show? Arrow
Book? Oh wow, this isn't an easy question for me to answer because I simply can't pick just one favorite book. Okay, so I'll cheat and I'll pick a favorite from the last year (2019). So, that would be The Mirror Crack'd from Side to Side by Agatha Christie
Video game? Skip because I have never played a video game in my entire life.
Marvel or DC? Both! Seriously, there is no way I can choose one. I'm a huge fan of both Marvel and DC.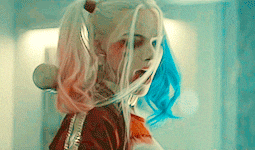 ---
My nominees:
My Questions:
What is your favorite genre to read?
What's one thing about reading that you love the most?
If you were granted three wishes, what would you ask for?
What is something (genre/trope) you have never read but really want to?
Which is your favorite comic book/series?
What is the one thing you think makes comics/graphic novels better than simple books? (If you're not a comic read then share your most recent favorite book with us)
What is your favorite inspirational quote from a comic (or any book)?